Synopsis
In line with India's current economic scenario, the infrastructure
sector in India is in a state of transition, with the Government
undertaking various large-scale infrastructure projects such as the
Smart Cities Mission, 'Sagarmala' Project, Bharatmala Pariyojana,
etc. The budget allocations by the Indian Government towards this
sector have also been increasing.
Australia's well-developed and modern infrastructure facilities have
played a key role in the country's economic progress. Australia
can act as a strategic partner for India in its various infrastructure
initiatives. India can also participate in Australian infrastructure
projects.
The following opportunities have been identified:
Collaborating with Australian municipal bodies and companies to support India's smart cities mission.
Encouraging investment by Australian investors/superfunds/banks in India's infrastructure projects.
Increasing joint ventures between Indian infrastructure companies and their Australian counterparts.
Overview of infrastructure in Australia
Well-developed infrastructure, that includes networks of roads, highways, railways, ports, etc., plays a significant role in encouraging productivity and competitiveness. A large part of Australia's rapid economic prosperity can be attributed to the presence of high-quality infrastructure in the country. Australia's industries and its large urban population benefit significantly from access to some of the world's finest infrastructure facilities407.

Infrastructure expenditure in Australia has been growing at a faster pace than that of other developed countries. Australia's expenditure on infrastructure exceeds that of its peers and this outperformance is expected to continue.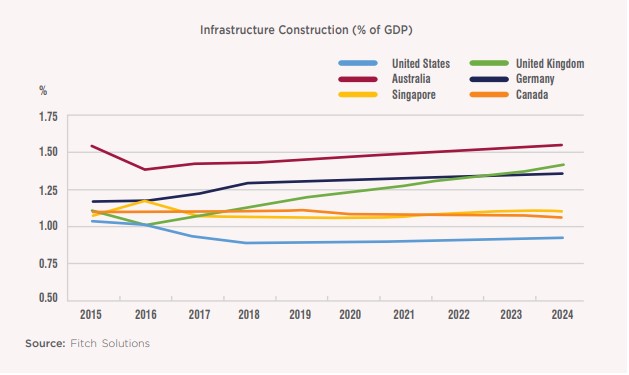 The increasing spend on infrastructure can be attributed to Australia's growing population that is expected to reach 30 million by 2031408. Much of the population growth is expected across four of the largest cities, viz., Sydney, Brisbane, Melbourne and Perth. The Australian Government has outlined an investment of AUD 100 billion (USD 67 billion), over ten
years from FY20, in infrastructure to meet the needs of the growing population, to reduce congestion and to improve connectivity.409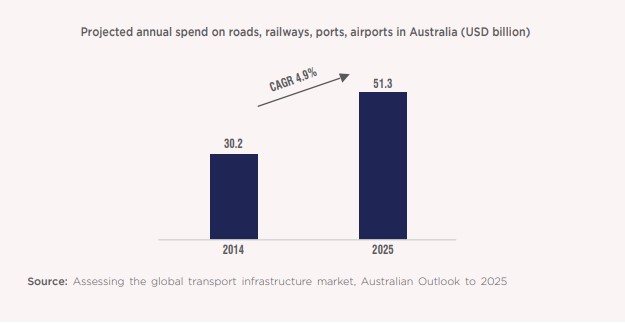 Further, the Australian Government has also been encouraging public-private partnerships in this space. Several marquee projects in the country, such as the Sydney Harbour Tunnel, Sydney light rail project etc. are a result of combined synergies of the Government as well as private players. A number of Government and private organizations such as Infrastructure
Australia, Infrastructure NSW, Partnerships Victoria and Infrastructure Partnerships Australia have also been formed to oversee and promote infrastructure investments in the country.
Source: Aerotropolis, Investor Guide, Australian Government
Overview of infrastructure in India
Infrastructure development is essential for India's stable economic growth and improvement in quality of life over the next few decades. The sector includes urban development and transportation infrastructure. In the last few years, the country has witnessed rapid growth in infrastructure, with several large-scale projects being undertaken for highways, railways
and airports, along with an increase in foreign investment and government initiatives such as Smart Cities Mission.

The Government of India has estimated that India would require investments worth at least USD 4.5 trillion till 2040 in the sector to continue sustained economic prosperity410. Historically, infrastructure was primarily a public sector monopoly. However, in recent years, fiscal constraints and availability of technological innovations have encouraged private players to participate in infrastructure development projects across the country.

While the sector faces issues related to project management, the Government has taken several initiatives such as single window clearances, increase in threshold limit for project appraisals from INR 5 billion (USD 0.07 billion) to INR 10 billion (USD 0.14 billion), stricter timelines, etc. to ensure smooth development of projects. In order for India to achieve its target economy size of USD 10 trillion by 2032, the expected annual investment into infrastructure sector in the country is USD 200 billion. Within the total budget allocated by the Government, railways, roads and highways continue to stand as the Government's primary focus areas411. Ports and aviation sector are other areas, in which the Government has been increasing its focus.
Key highlights of the infrastructure sector in India are as follows:
With roadways spanning 5.5 million kilometers, India has the second largest road network in the world, which comprises of National Highways, State Highways and Project and Rural roads412.
Indian railways is the largest passenger carrier and the fourth largest freight carrier in the world. The rail networks spans ~66,000 kilometers, making it the world's third largest rail network. It is also one of the world's busiest networks, with ~22,300 trains running everyday411.
India has a vast coastline of ~7,500 kilometers, comprising of 13 large ports and 64 minor ports413. Approximately 95% of foreign trade by volume and 70% of India's trade by value is carried out through maritime logistics414. India has vast untapped potential in maritime logistics and the Government has planned investment into port projects worth USD 2.9 billion (INR 205.4 billion) till 2025415.
India is the world's seventh largest aviation market and is witnessing a growth of ~15% ever year. It is poised to become the third largest aviation market in the world by 2022. Air cargo is also expected to quadruple to reach 17 million tons by 2040416.
In the face of the ongoing COVID-19 pandemic, several reforms were announced by India's Finance Minister to revive the Indian economy in mid-May 2020. India will ease its current restrictions on the utilization of Indian air space, which will allow efficiency of time and fuel. In addition to an investment of INR 130 billion (USD 1.86 billion) by private players in 12 airports, 6 more airports will be auctioned for private participation.
Opportunities for partnership in infrastructure
The key themes that have been identified for India-Australia partnership in infrastructure are Australian investments/participation in India, collaboration for India's Smart Cities Mission and India's investments/participation in Australia. In fact, some of the state strategies, such as the NSW-India strategy, have highlighted NSW's interest in assisting the Indian Government with its plan to build 100 smart cities in India. The collaborations highlighted below can be carried out not only at a country level, but also at a state level in both countries.
Encouraging superannuation funds from Australia to invest in India's infrastructure projects
Australia has a large asset management industry, predominantly consisting of the savings of domestic investors. The total assets managed amounted to ~AUD 2.78 trillion (USD 1.9 trillion) at the end of 2018.417 Superannuation/pension funds constitute the largest share of these assets.
Australian super funds have an appetite to invest in large, long-term projects and they can play a vital role in India's development by investing in several infrastructure projects across the country such as infrastructure, real estate, logistics and retail.
While the funds have considerable exposure to international markets, their exposure to India is limited despite the above-average opportunities for investment and returns offered
by India.418
However, this scenario is gradually changing. In 2019, Australian Super signed an agreement with the National Investment and Infrastructure Fund (NIIF) in India, to invest USD 1 billion in NIIF's Master Fund. NIIF is an investor-owned fund manager, anchored by the Government of India (GoI) in collaboration with leading global and domestic institutional investors. The agreement with NIIF includes USD 250 million commitments and co-investment rights of up to USD 750 million for future projects. The large-scale investments in NIIF Master Fund from international players have rendered it as one of India's largest infrastructure funds419.

A few solutions to encourage greater pooling of funds from Australian investors include simplification of regulatory processes and setting up of a portal/helpdesk as a one stop shop for the superfunds to understand the Indian market, regulatory processes, resolve queries and raise issues about procedural difficulties. In addition, to woo Australian investors, it is
important to conduct more road shows, increase regular engagements to boost confidence in the Indian regulatory processes and increase awareness vis-à-vis returns on investments in the infrastructure space.
Encouraging Australian investments and participation in India's infrastructure projects
The Indian Government has outlined investments across multiple infrastructure avenues. To expand and enhance the road infrastructure, the Government has planned an investment of USD 108 billion to build 83,677 km of roads across India in the next five years. The investment plan includes Bharatmala Pariyojana, which involves building the highway network of 34,800 km to connect the country's Western and Eastern borders420. Further, the Delhi-Mumbai Industrial Corridor and 3,360 km of dedicated freight corridors are under construction.421 The Government has identified more than 400 projects as a part of the Sagarmala initiative to modernize ports and enhance the performance of the logistics sector421. In the field of railways, India has launched its first bullet train project by collaborating with the Japanese Government and is also working with the Russian Government to improve the speed of trains. To improve urban connectivity, the Government has invested in the extension of existing metro rail projects and also announced several new projects across India. To enhance the quality of living of Indian citizens and achieve urban development, the Government launched the 'Smart Cities Mission (SCM)' in 2015. Additionally, there are several opportunities in the renewables sector, specifically wind energy, wherein Australian investors including Australian superfunds can invest into India.

The Indian Government has been encouraging foreign investors to participate and invest in infrastructure projects across India. The Government has allowed 100% FDI in road and railway infrastructure.422 It has also laid out several incentives such as provision of subsidies, tax exemptions and duty-free imports of modern construction equipment in the road sector. India is expected to witness high growth in cargo traffic, road freight and passenger traffic over the next decade.

Australia should be encouraged to explore the opportunity of green field and brownfield investments in India. Australian super funds/banks focused on infrastructure should also be encouraged to explore the opportunities to invest in low risk greenfield/brownfield infrastructure projects in India.

Australia could also explore the opportunities arising out of asset recycling in India. Undertaken by the Government, India has approved the 'Toll-Operate-Transfer (TOT)' model wherein private players are granted 30 year long leases for operation of toll roads as a part of asset recycling. A key example is the investment by the Australian Macquarie group in the Indian road sector. It is the largest foreign investor in Indian national highways. In 2018, the group in consortium with Ashoka Buildcon of India won the bid to operate and manage 680 km of highways for 30 years under the TOT model423.
Source: Macquarie Group Website, Times of India
Leveraging Australia's urban planning and infrastructure development expertise for India's Smart Cities Mission (SCM)
India is witnessing growing levels of urbanization due to rising population, economic growth and rural to urban migration. Urbanization in India is expected to increase from 35% to 40% by 2030427. Development of cities will play a pivotal role in India's future growth. SCM has identified 100 cities and is focused on urban renewal by retrofitting projects in areas such
as transport, energy, sanitation and governance.

Australia is a highly urbanized country with two thirds of its population living in cities.428 Australia is home to several large cities that are renowned for their urban planning and high standards of living. Melbourne has been ranked as the most livable city in the world for seven years, according to Economist Intelligence Unit (EIU) global livability index. Australian companies have developed best practices in various areas of smart urban infrastructure, which include sustainable urban planning, intelligent transport systems, road design, building technology, water and waste management and robust systems for natural disaster preparedness.

Waste Management: Australia has traditionally been dependent on China for waste recycling. However, with China reducing the intake of such waste from Australia since ~2017, there is a significant opportunity for India to assist Australia in waste recycling.

India can collaborate with Australian organizations to develop its smart cities. The areas of collaboration can include transport planning, urban planning, waste disposal, water management, citizen engagement through technology, digitization through smart platforms and training Indian urban planners/municipalities/organizations on urban planning practices.

Australia has already announced an investment of AUD 30 million (USD 20.1 million) to help ASEAN member countries with the development of smart cities. The initiative termed as 'ASEAN-Australia Smart Cities Initiative' will leverage Australia's expertise in water governance,
technology innovation, data analytics, green infrastructure and renewable energy to support ASEAN'S smart cities network and support its vision of sustainable development. Australia will help member countries implement smart planning, good governance, through provision of technical assistance, education, training and support for innovation.429 India could initiate a similar partnership with Australia.
Potential Indian participation/investment in Australia's infrastructure projects
The Australian Government has increased its spending on infrastructure, rolling out multibillion infrastructure plans for the next decade. The current period is being referred to as the infrastructure boom in the country. The infrastructure projects cannot be solely sustained by
public funding and therefore, the Government has encouraged private sector investment in this space. Many projects have also been announced by the Australian Government in the public-private partnership mode, which allows for the participation of private companies in Australia's
infrastructure projects. Infrastructure Australia, a statutory body, which advises the Government on nationally significant infrastructure projects, has identified a diverse and comprehensive list of investments in the infrastructure priority list431. Australia offers significant opportunities for
investors to fund, own, construct and operate Australia's urban and transport infrastructure.

Indian infrastructure companies could explore direct investment opportunities in brownfield and greenfield projects in Australia. For example, the GVK Power and Infrastructure Ltd. has shown interest in bidding for airport projects and airport management contracts in emerging
economies, such as Asia and Africa432. Such Indian companies can similarly participate in upcoming infrastructure projects in Australia as well. Alstom and Bombardier, two multinational companies operating in the world transport markets, have set up manufacturing facilities for Australian metro passenger coaches in India. Indian infrastructure companies could also explore similar projects to cater to demand in the Australian infrastructure space.
Australia has implemented the asset-recycling model across Victoria, NSW, the Northern Territory, South Australia and Australian Capital Territory. Asset recycling in Australia involves the State Government sending out proposals to the Federal Government for the asset to be sold and the intended new infrastructure to be funded with the proceeds from the sold assets. Private companies and the state governments then negotiate the price for the sale of the asset, after approval of the proposal. The new infrastructure is then funded by the proceeds from the sale of the assets as well as certain incentives provided by the Federal Government433.
Specific India-focused infrastructure companies can explore the investment opportunities in asset recycling models and other brownfield projects in Australia.
Smart Cities in Australia
Australia has been driving initiatives such as the AUD 50 million (USD 33.5 million) smart cities program. The program is focused around 50 cities in the country and aims to enable innovative technology-based solutions to support Australia's growing urban challenges. In addition, global technology giants such as Huawei, Cisco and Nokia have also been assisting
Australia in its smart cities operations.

India has several large IT conglomerates such as TCS, Wipro, HCL, etc. with a presence in Australia that have customized solutions for developing smart cities. While Australia has already been engaging with global giants such as G.E, Cisco, etc., Indian companies can also be actively involved with assisting Australia in their smart cities mission, especially given their expertise in data analytics, IoT and cloud-based solutions. This can be carried out by encouraging partnerships with Australian companies and city councils.
Mega Cities in Australia
Melbourne and Sydney are the largest cities in Australia. With increasing urbanization and consequently higher population levels, Australian cities are going to face additional pressures of inhabiting a larger population in a limited space.

Indian companies such as Shapoorji Pallonji, L&T, HCC, etc. have participated in tenders across Asia, Middle East and Africa. Leading Indian construction companies can bid for subcontracting affordable housing projects in Australia, leading to profitability of such projects on account
of competitive cost structures offered by these companies.
Recommendations
Indian Government should engage with Australian super funds to encourage investments in Indian infrastructure projects and Smart Cities Mission (SCM). This will require conducting awareness initiatives in Australia to provide information on regulatory policies in the country, execution potential of the projects, returns on investments, tax structures, etc.

407 Interesting Facts about Australia's 25,000,000 population, Australian Bureau of Statistics
408 Australian Infrastructure Plan (2016), Infrastructure Australia
409 Infrastructure Investment Program, Australian Government
410 India will need USD 4.5 trillion till 2040 for infra development: Amitabh Kant, 2018
411 Sectoral Risk outlook- Infrastructure, Dun & Bradstreet, September 2018
412 Connecting the country road infrastructure, Make in India, 2017
413 Make in India, Ports and Shipping,
414 Ministry of shipping
415 Projects worth Rs 20,000 crore under implementation to boost ports capacity, The Economics Times, 2018
416 Global Aviation Summit 2019
417 Australia Bureau of Statistics, Cat. No. 5655, Managed Funds, Australia, Table 1
418 Prabhu woos Australian pension funds, 2018, The Times of India
419 NIIF to get up to $2 bn from AustralianSuper, Ontario Teachers, 2019, The Hindu
420 Invest India, Roads and Highways
421 Investing in Infrastructure, Make in India
422 Make in India website
423 Ashoka Buildcon O&M partner for Macquarie's TOT projects, Financial Express
424 Top 50 infrastructure investment managers, 2018
425 MIRA Funds
426 Macquarie to bid for second round of TOT projects, 2018
427 The horror of urban development in India-identifying real issues, IIM A
428 Census reveals two thirds of our population live in Australia's capital cities, Australian Bureau of Statistics
429 ASEAN-Australia Smart Cities Initiative, Department of Foreign Affairs and Trade, 2018
430 Smart Cities, KPMG and Public Sector Network Smart Cities Series 2017
431 Infrastructure Priority List 2019: Project and Initiative summaries, Infrastructure Australia, 2019 432 GVK to bid for airport projects in Asia, Africa, 2015, Livemint
433 Does asset recycling actually work?, 2018, Brink
434 Infrastructure Australia, Australian Government