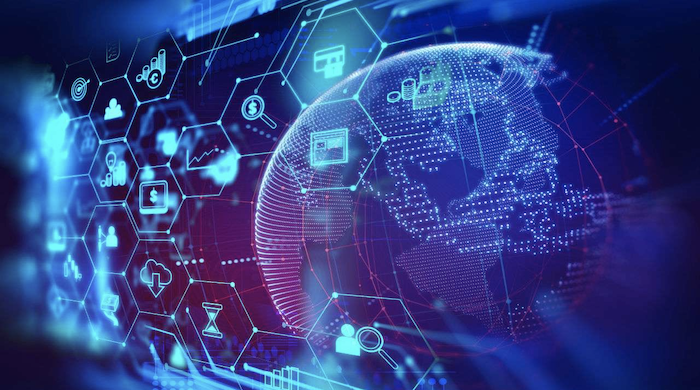 Synopsis
The technology and services industry is one of the fastest growing industries in Australia. India has an extensive resource base of individuals with highly specialized digital technology skills, which provides India an opportunity to actively participate in Australia's private and government sectors. It also allows for collaborative opportunities in emerging areas such as Industry 4.0.
The following opportunities have been identified for this sector:
Increasing participation of Indian companies in Australian government projects.
Encouraging setting up of Global Innovation Centres (GICs) of Australian companies in India.
Collaborating in areas such as cyber-security.
Providing India's high-quality product-based IT offerings to Australia.
Collaborating to further develop fin-tech capabilities in both countries.
Collaborating with Australia in technologies and expertise in SME lending and screening.
Enhancing cooperation in start-ups.
Overview of the Australian IT industry
Australia was one of the earliest countries to recognize the advantages of a technologically connected economy and was quick to adopt an e-Government strategy. The Australian Government laid out a Digital Transformation Agenda in 2016, which focused on providing more accessible digital services to individuals and businesses. The Australian Government, in 2018, released "Vision 2025: We will deliver world-leading digital services for the benefit of all Australians", prepared by the Digital Transformation Agency (DTA), which set out to place Australia amongst the top 3 digital Governments in the world.183 This resulted in rapid innovation and digitization across Australian industry and Government that has fueled the growth of the information technology services industry in the country. Value add from the sector to the Australian economy grew at ~7% between 2012 and 2017 to reach USD 22 billion in 2017.184 Australian Department of Industry, Science, Energy and Resources (DISER) has also come out with "Australia's Tech future" document. The information technology industry in Australia is dynamic and has evolved from providing basic software technology and support services to advanced technologies such as cloud computing, data analytics, cyber security, automation, etc. The Australian government has also developed an AI Ethics framework, AI Technology Roadmap, AI Standards Roadmap, and a National Block Chain Roadmap. Australian authorities have engaged with NITI Ayog in India and have discussed attractive opportunities in AI and Blockchain (research, commercial and governance/ responsible development) and use of emerging technologies.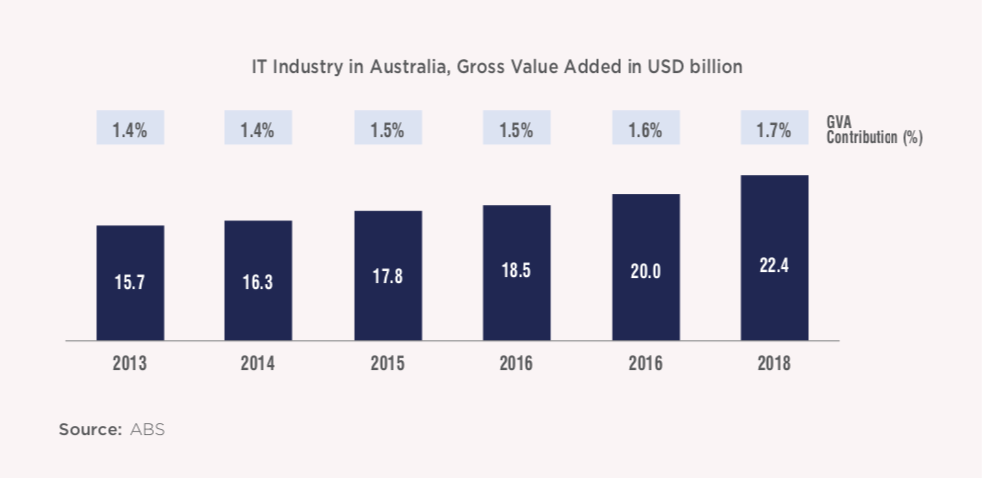 One of the key trends driving growth of the Australian industry is that enterprises are increasingly spending on availing IT services than on developing in-house capabilities. This has resulted in a rise in IT spending across public and private sectors in Australia. For example, the use of cloud services has increased as enterprises prefer availing cloud services over owning their own physical servers. Australian enterprises, like their global counterparts, are also gradually switching from traditional enterprise software to using cloud-based SaaS applications.
Melbourne, Sydney and Brisbane are the three largest IT hubs in Australia. Melbourne is home to more than half of Australia's top technology companies and the state of Victoria has 8,000+ IT businesses including companies such as IBM, Microsoft and Intel.185 Sydney has numerous technology start-ups. Brisbane's technology start-up space is also growing owing to significant efforts undertaken by the Queensland Government to scale up the sector.
Australia's prominent listed software companies include Link Administration Holdings, Atlassian, Iress Limited and Technology One. However, their scale is much smaller when compared to global giants such as Apple, Microsoft, etc., as well as Indian IT multinationals operating in Australia.

Indian IT companies have been present in Australia for more than a decade. Companies like Tech Mahindra, Infosys, Wipro, TCS, HCL, Cyient, Capgemini and NIIT have a strong presence in the country. Initially, these companies employed a cost reduction strategy where services were outsourced to India. However, these companies are gradually shifting focus from traditional IT offerings to business-driven IT by developing expertise in new age technologies such as cloud computing, analytics, etc. Wipro has set up three centers in Sydney, Melbourne and Adelaide to expand its operations in Australia and to capitalize on the talent pool and infrastructure provided by the country. Wipro is also planning to set up an innovation centre in collaboration with Swinburne University of Technology in Melbourne to conduct research in Artificial Intelligence (AI) and machine learning for applications in digital health and smart cities. In 2010, Infosys partnered with Telestra to create an emergency alert system, which was adopted across Australia. TCS was chosen to be the IT services partner by AGL Energy to implement a SAP solution in order to transform AGL's billing processes and services; the project won SAP customer Award of Excellence in 2012.
Sector Representative Contribution: Infosys in Australia
Australia and New Zealand together comprise the second largest region for Infosys globally. This region has experienced consistent growth in revenue since its inception.
Infosys established its initial presence in the region in 1999.
Across Australia and New Zealand, Infosys partners with clients enable them with an AI- powered core that helps prioritize the execution of change and empower businesses with agile digital at scale to deliver unprecedented levels of performance and always-on learning agenda to help clients drive their continuous improvement.
In late 2018, Infosys announced a digital innovation partnership with Tennis Australia to provide new digital experiences for Australian Open fans and players. Infosys also launched several initiatives to accelerate digital leadership for their clients in Australia and to shrink the digital skills gap in the region with the commitment to create 1200 jobs and open three innovation hubs by 2020
The evolution of business is shown as below:
Sector Representative Contribution: Wipro Australia
Wipro has been a pioneer of new age, disruptive and transformative innovations. Its presence in Australia has been firmed up with a multitude of transformational programs that have been successfully delivered over the years in both the private as well as public sectors. Wipro employs 2000+ employees in Australia and has investments in all major cities including Sydney, Melbourne, Brisbane, Canberra and Perth. The company recently launched a delivery center in Paramatta primarily in support of their Government sector, road & maritime services client for cloud transformation services.
Wipro serves over 60 clients in Australia across diverse industry segments, with at least a third listed in the top 100 ASX. Wipro's acquisitions in the Australian region include Syfte in 2018 (Digital Design), Designit in 2014 (Digital Transformation), ATCO I-Tek in 2014, Promax Applications Group in 2013 (Trade promotion planning, management and optimization solutions space).
Wipro's partnership with universities includes Wipro-Swinburne Innovation Centre launched in December 2016 that will use cognitive computing, predictive analytics and next-generation digital technology to improve the economic, social and environmental dividends for society.
Key opportunities for India-Australia collaboration
India's IT sector is much larger in scale in comparison with Australia's IT sector. The sector is driven by exports, which contribute to ~75% of Indian IT revenues.187 The industry is evolving from being a back-end outsourcing services provider to becoming a hub for digital solutions. A collaboration between India and Australia can not only help develop niche skill sets and talent pools but also improve digital solutions provided globally.
India and Australia can collaborate to strengthen their capabilities in cyber security
Rise in connectivity, digital transactions, volume and nature of personal data has globally increased the vulnerability to cybercrime and the need for stricter cyber security measures. Australia is ranked amongst the top 10 nations in the world for the strength of its cybersecurity framework.188 As per a Cisco study, Australian organizations tackle some of the highest volumes of cyber security alerts in the Asia Pacific region.
Australia has a strong legal and organizational framework for cyber security governance in the country. The Australian Cyber Security Centre (ACSC) provides cyber security advice and assistance to Australian Governments, businesses and individuals. The Australian Government, in 2017, also set up AustCyber as an independent organization responsible for growing the Australian Cybersecurity ecosystem, conducting research, building a pipeline of cyber security professionals and exporting Australia's cybersecurity capability. AustCyber also provides funding to industry led cyber security programs.189 Australia's Cyber Security Strategy 2020
includes a commitment to work with businesses to consider legislative changes that set a minimum cyber security baseline across the economy. Australia's work with industry will include multiple reform options, including alignment with international cyber security standards and support for Australia's digital economy and facilitate digital trade. However, the country faces a significant shortage of cyber security professionals. The country's current pipeline meets only 7% of the cyber security expertise needed at the moment.190 As per a survey by Intel Security, 88% of Australian IT decision-makers believe that there is a significant lack of cyber security skills within their organizations as well as in Australia.191
In India, although the Government has become stricter with its cybercrime policies and while the overall cyber security environment has strengthened, there is still room for improvement. India aims to be ranked amongst the top 10 countries in the world on the Global Cybersecurity Index, where it currently ranks 23rd among 166 countries.192 The National Cyber Security Policy, in 2013, was developed to build a secure and resilient cyberspace for India's citizens and businesses. The Indian Government also approved a national framework to enhance cyber security in Indian cyberspace under which the National Security Council Secretariat would be the nodal agency. Though there are various Government agencies assigned with different responsibilities such as the Indian Computer Emergency Response Team (CERT-India), National Technical Research Organization and the Ministry of Home Affairs, India is working towards a strong independent body for its cybersecurity ecosystem. The country needs an estimated 3 million professionals.193
A Framework for operational collaboration on Cyber Security between CERT-India and CERT Australia was signed in 2015 for 5 years. In June 2019, officials of the two countries have also discussed Australia's telecommunications sector security reform and Australia's approach to 5G.
Areas of collaboration in cyber security
One of the key areas of collaboration is to address the skill shortage faced by both countries. As per AustCyber's Sector Competitiveness Plan, Australia will face a shortage of 18,000 cyber security professionals by 2026.197 There is also an opportunity for technology institutes from both countries to partner with agencies such as AustCyber to create vocational as well as specialized degrees in cyber security. Indian banks, financial institutions, health and insurance companies, among other industries in India can also partner with Australian educational institutes to establish global centres of cybersecurity excellence in India that will not only train professionals but also develop innovative cyber security solutions in India. There is also potential for India to invest in the Australian cyber security sector to leverage sector expertise and provide services to global customers.
India's product- based IT service offerings in Australia
Software-as-a-service (SaaS) application is one of the fastest growing verticals of cloud- based services in Australia. Australian industry is increasingly switching to cloud-based SaaS products instead of traditional on- premise enterprise products. There are over 1,600 SaaS start-ups in Australia providing services ranging across multiple sectors such as banking, consumer, healthcare and retail, covering business functions such as sales and marketing, accounting, operations management, finance, human resources, etc.
The IT landscape in India is gradually changing. For almost thirty years, the Indian IT sector was dominated by service companies that were engaged in delivering outsourcing services at low prices. However, in recent years, the Indian software-as-a-service (SaaS) ecosystem has witnessed heightened activity with the emergence of new and growing start-ups that have been disrupting the Indian and global markets. India's SaaS industry is maturing to become the SaaS hub of the world and the Indian market is expected to grow to USD 10 billion by 2025.198 There are over 8,000 SaaS start-ups in India.199 Indian SaaS start-ups have the ability to service global clients, especially in the US and in Europe, remotely on a cost- effective basis. Indian SaaS companies have also received funding from a host of global investors over the years such as:
Accel Partners (Freshdesk, Hotelogix, Mobstac, Mindtickle, Chargebee, Zettata)
Blume Ventures (Zipdial, Hotelogix, Mettl, FrameBench, WebEngage, Mobstac)
Nexus Venture Partners (Druva, Indix, Unmetric, TargetingMantra, Genwi, Helpshift)
Norwest Venture Partners (BlueJeans, CRMnext, Act-On, Capillary Technologies, Attune)
Sequoia Capital (Druva, Capillary Technologies, Knowlarity, Practo)200
Indian SaaS companies offer several advantages to meet Australia's digital transformation requirements. As compared to an American SaaS company, its Indian counterpart requires 2 to 2.5 times lesser capital to generate similar amounts of revenue. Further, while Australia faces staff shortages, India is growing stronger in the number of IT professionals and engineering graduates that it adds to the pool of developers and product managers for SaaS companies. India also has a large number of experienced consultants from the BPO and IT industries that have deep domain knowledge and critical understanding of the field. Thus, the large demand for SaaS products in Australia provides tremendous opportunities for Indian SaaS companies looking for global expansion.
Sector Representative Contribution: Tata Consultancy Services in Australia
TCS entered Australia over 30 years ago to work closely with a number of key Australian companies. Over the years, TCS's presence in Australia grew with the growth of IT in the country. TCS's blue-chip clients include top 8 of the 10 ASX companies. TCS also serves all major banks, telcos and airlines for the region. TCS focuses on verticals, such as banking, finance and insurance and, mining, energy and utilities, as well as telecommunications and retail, travel & transportation. In Australia, TCS is focusing special attention on strategic growth areas using their Business 4.0 theme, which was launched in 2018. They build bespoke teams around clients' domain and technology requirements. The company's flagship global banking product, a suite of world-class solutions for banks, capital market firms and insurance companies - TCS BáNCS - was developed in Sydney. The Cyber Security Cooperative Research Centre (CRC), the University of New South Wales, Western Sydney University and the University of Melbourne are core participants in TCS's academic alliance program, which brings together experts from the start-up, research and corporate worlds to collaborate on innovation and solutions for TCS's customer base worldwide. TCS has over 100 clients in Australia with 40+ clients being from the global customer base. In addition, the TCS Community Innovation Program has pledged and delivered USD 2 million of in-kind technical services and solutions to Australian not-for- profits since 2015. TCS's GoIT suite of programs are investing in the Australian technology workforce of the future and providing students with critical pathways during primary, secondary and tertiary education milestones. TCS has partnered with the Department of Foreign Affairs & Trade (DFAT) and Australian Universities under the New Colombo program to provide 30 Australian students a 4-week internship in India by 2020. By July 2019, 39 students had completed this program with further groups planned in the next few quarters.
Access to Government projects for Indian IT companies in Australia
Approximately 324.4 million transactions are carried out with the Government each year in Australia via traditional channels. Each face to face transaction in Australia with the Government costs AUD16.9 (USD 12.07), whereas postal transactions and telephone transactions cost AUD12.79 (USD 8.57) and AUD 6.60 (USD 4.42) per transaction, respectively. Digital transactions, on the other hand, cost ~AUD 0.40 (USD 0.27) per transaction. In short, face to face transactions cost 42 times more than digital transactions whereas postal and telephone interactions cost 32 times and 16 times more than digital transactions respectively.203 Further, according to a survey of almost 1,200 Australian consumers, 61% had used the internet for transactions with local, state or federal Governments. While 29% of these users were satisfied with their experience, 58% had faced issues with the online service.204
The Australian Government has an annual ICT spend of AUD 6 to 7 billion (USD 4 – 4.7 billion), of which 28% (~AUD 2 billion) is towards outsourced IT services and 27% is towards the purchase of software and hardware. However, as per the Department of Finance's ICT Trends reports of 2015-16, ~44% of the applications used by the Government are over 10 years old. Moreover, only 9% of the total expenditure is towards transformational projects.205 Hence, there is considerable opportunity for Indian tech-based companies to provide innovative digital solutions and work with the Australian Government to upgrade and modernize their digital infrastructure and applications.
However, the key Government projects in Australia are still predominantly handled by American IT companies such as IBM. IBM has entered into AUD 1 billion (USD 670 million) five-year agreement with the Australian Government to provide IT hardware, software and services. This arrangement also provides for Australia's Digital Transformation Agency (DTA) to conduct a joint innovation program with IBM's Melbourne-based research and development team. IBM and DTA will jointly research to prioritize blockchain, quantum computing and AI for the Australian government. In the past, the Australian Government also had similar arrangements with SAP and Microsoft.206 Further, Accenture also has several consulting agreements with the Federal Government, which are worth AUD 230 million (USD 154.1 million) starting in 2016 for IT management and implementation services. This also includes contracts worth AUD 157.9 million (USD 105.8 million) for the Department of Defence and AUD 52.2 million (USD 35.0 million) for the Australian Tax Office.207
Indian companies such as Infosys, TCS, Polaris, Wipro, etc. have a significant presence in Australia, which when combined with the Australian Government's focus on digital transformation, provide a large number of opportunities to Indian companies. There is a shortage of IT professionals in Australia and the Government is resorting to hiring contract employees as well as outsourcing functions to meet the skill gaps. Given the large-scale reskilling of Indian IT personnel and the size of the talent pool in India, Indian companies can make sound partners to help facilitate the Australian Government's digital transformation agenda. However, Indian IT players face stiff challenges in securing Government contracts from global giants such as IBM, SAP, etc. There is a requirement for a mind set change by the Australian governmental agencies and departments. There have also been concerns over cyber security and data privacy measures adopted by Indian companies which are largely unfounded.
In order to improve the relationship between the Australian Government and Indian industries, India can host industry workshops and roadshows in Australia with various departments as well as state governments. Industry bodies can also help in working with the Australian government and improve the perception of Indian IT companies as global organizations.
Global Innovation Centres (GICs) in India
Australia faces deficits in key digital skills such as data management and analysis, cyber security, cloud computing, artificial intelligence and software design. This deficit is due to the limited local supply of current professionals.208 Australia created 63,000 new tech jobs in the period between 2015 and 2018 and the industry forecasts suggest that Australia will require an additional 100,000 tech workers by 2023.209 Given the skill shortage in Australia and the need for constant reskilling of its IT professionals, many Australian companies are setting up innovation centres in India for their global operations. This set up is also beneficial for Australia from the perspective of the costs incurred. These innovation centres provide value added and support services as well as undertake constant research and innovation to optimize operations, product and service delivery, customer management and other functions of the organizations.
The Indian Global In-house Center or GIC landscape has witnessed significant evolution over the last 20 years. GICs are offshore centers, where high quality and scalable IT and support services are sourced by companies. India currently has around 1,100 GICs with 800,000 employees, which generate ~USD 23 billion in revenue.210 68% of GICs in India are from the US, whereas 24% are from Europe.
Bangalore is amongst the top 5 destinations for global multinational companies to set up innovation centers. Indian talent continues to attract international firms to rapidly expand their global in-house centres (GICs) in the country besides setting up new ones including multinationals from Australia.
Telstra has opened an Innovation and Capability Centre in Bangalore in 2019 to leverage the availability of software engineers and IT professionals in India.
Newcrest Mining, one of Australia's largest gold mining companies, has collaborated with Tata Consultancy Services (TCS) to set up a capability centre in India that will build capabilities in areas such as engineering, research and development, industrial process control, data analytics, IoT and asset management to explore opportunities in core business areas such as ore processing, predictive targeting, production optimization, etc.211
Further, Rio Tinto, in partnership with IT firm iGATE Patni, has opened an innovation centre in Pune, India, to speed up development of mining technologies. The Rio Tinto innovation centre (RTIC) will build digital technologies for mining operations. Rio Tinto plans to employ about 300 workers, including skilled engineers, in the new centre to address technological requirement from across the company's operations.212
ANZ also has an innovation hub in Bangalore that provides technology development, support on operations and shared services to the Australian banking company globally. It employs more than 5,000 people.
India accounts for ~45% of the Global Centres in the world located outside a home country. Leading MNCs have more than 35% of their technology workforce operating out of their India center.213 Locating GICs in India is an attractive option for Australian companies seeking to advance their capabilities in exploiting big data for competitive advantage as well as digital technologies that support the front office and drive business growth. GICs in India are well equipped to meet new age digital demands.
Additionally, in terms of growth in data, India is outpacing the developed markets and consequently the demand for data centers is growing at 25% CAGR. Data centers outsourcing market in India is pegged at close to USD 2 billion and is projected to grow to reach USD 5 billion by 2023-24. India is on its path to becoming the biggest hubs for co-location data centers globally. Even the cloud market is growing at 40% and significant investment has gone into supporting this growth and building next generation infrastructure. Australian companies can utilize this existing data center infrastructure in India to support their Global Innovation Centers.
The Covid-19 pandemic has highlighted the need for speedy and effective adoption of technologies such as cloud, automation, virtualization, cybersecurity and has subsequently increased the demand for skilled workforce. As large Australian enterprises re-evaluate their strategy for sourcing, de-risking, digitization and talent acquisition in the post pandemic era, India has an opportunity to encourage and invite large Australian enterprises to set-up Global Capability Centers in India. Companies such as Rio Tinto and AnZ, with active presence in India via GCCs, can share their learnings and experiences of setting up operations in India with their peer group in Australia. This further highlights the need to improve university tie-ups and industry dialogue between the two countries.
Collaboration between India and Australia on analytics / cloud technology services
Data Analytics and Cloud technology services in Australia
The adoption of cloud computing is growing rapidly for Australian businesses. In 2013-2014, only 19% of the Australian businesses adopted cloud services and this number increased to 31% by 2015-2016.214 Australian businesses are growing to think "Cloud First" i.e. development of applications and infrastructure to be hosted over the cloud instead of physically owned servers. The Australian Government is also migrating to cloud databases as part of its digital transformation. As a result, Australia increasingly requires the presence of technology specialists with cloud computing skills. As per a survey of 50 IT chiefs in Australia cloud security, project migration, DevOps were some of the skills most in demand in the country.215
In addition to cloud, the emergence of big data has given rise to data analytics solutions. Australians have an additional requirement of data specialists to support this growing sector in the country.
Data Analytics and Cloud technology services in India
As per a NASSCOM report, the public cloud services market in India is expected to reach USD 7 billion in 2022 from its current size of USD 2.5 billion in 2018. It is the second largest and fastest-growing cloud services market in Asia Pacific, after China. Apart from global majors such as Google, Alibaba, Amazon and Microsoft, India is building a generation of homegrown cloud computing services companies like NxtGen (AI development through its DevCloud), ESDS (hosting managed services) and CntrlS (data center services).216 India has availability of skilled talent with deep domain knowledge. One of the key focus areas of cloud service providers in India is training for requisite cloud skills. India is expected to witness a demand of more than a million cloud computing roles by 2022 with skill requirements in DevOps, software-as-a-service, infrastructure-as-a-service, automation and software-defined network.217
Artificial intelligence and big data analytics are disrupting industries such as automotive, healthcare, banking and finance and retail. Indian big data analytics sector is expected to grow by eight times to reach USD 16 billion by 2025 from USD 2 billion in 2016. There are over 600 companies in India offering big data analytics, majority of which are start-ups.218 These offerings can be further developed in collaboration with Australia.
Collaboration between India and Australia
India and Australia both have high demand for cloud services and big data analytics. One of the most important areas for collaboration between the two countries is skill development. In India, NASSCOM has plans to collaborate with several universities and colleges along with leading IT companies, such as Wipro and Tech Mahindra, to provide relevant skills to around one million employees. The purpose of this initiative is to meet the skill requirements for qualified professionals under the Future Skills programme, over a period of five years. Australian Universities have also undertaken several initiatives to encourage digital skill development. For example, Adobe has established digital initiatives and symposiums throughout Australia, including a world-first strategic partnership with Swinburne University of Technology, to assist in the university's digital transformation. The students are offered various courses such as digital analytics, search marketing, social media marketing and video marketing.208
Australian and Indian universities as well as companies in the cloud and data analytics industry can thus collaborate to provide joint training and university programs for digital transformation and skill development. Cloud and big data companies in India and Australia can collaborate to scale up and utilize resources and skills that could mutually benefit both countries.
Collaboration between fintech industries of India and Australia
Fintech in Australia
Fintech activity in Australia has witnessed rapid growth. The sector has grown from just USD 51 million in 2012 to USD 600 million in 2016219 and is further expected to grow at a CAGR of more than 70% to reach AUD 4.2 billion (USD 3 billion) by 2020.220 Australia has ~700 fintech companies221 and the fifth highest fintech adoption rate (37%) after China, India, the UK and Brazil.221
Sydney and Melbourne are the most prominent fintech hubs in Australia. Sydney houses ~60% of Australia's fintech companies. This could be attributed to Sydney's large population and availability of accelerator and incubator programs. While not as large as the fintech sector in Sydney, Melbourne is also making significant efforts to establish itself in fintech. The State Government of Victoria has called for "experienced innovation hub operators" to set up a financial hub in Melbourne.222
Fintech in India
India has developed a vibrant fintech sector owing to a large market base, innovative start-up landscape and favorable regulatory and Government policies. The fintech software market in India is expected to reach USD 2.4 billion by 2020 from USD 1.2 billion in 2016.223
The adoption of fintech in the country has been rapid, driven by a surge in e-commerce, use of smartphones and growth in internet penetration. The launch of Government initiatives such as Smart Cities and Digital India have created infrastructural support for the sector. The Government has also extensively promoted the use of digital payments and introduced several tax incentives for fintech start-ups and merchants accepting digital payments. The Reserve Bank of India (RBI) has encouraged the development of fintech sector by providing several incentives. RBI has granted approvals to multiple entities for setting up payments, small finance banks and also launched the "Unified Payments Interface" to boost digital payments in India.
Consequently, the number of fintech start-ups in the country has increased by 3 times, reaching 2,050 in 2018 from 737 in 2015. Mumbai and Bengaluru have emerged as leading fintech start-up hubs. Further, fintech start-ups have created a wave in the start-up market and have managed to generate sizeable funding from private equity players and venture capitalists.224 The sector has witnessed a massive surge in investments, from USD 247 million in 2014 to USD 4.3 billion in 2017.225
Opportunities for collaboration in fintech
Both India and Australia host a dynamic and rapidly growing fintech environment. Both countries can therefore have knowledge and technology sharing agreements to foster innovation and enable mutual growth. Australia has similar collaborations with other countries. For instance, Australia and the UK signed the UK-Australia Fintech Bridge to increase collaboration between Governments and fintechs for improved trade flows and collaboration on regulation and policy.226 Further, in December 2017, FinTech Australia and FinTech Indonesia signed a memorandum of understanding for mutual growth of fintech in both countries. In addition, Australia is also a part of an Asia-Pacific FinTech Network, launched by nine fintech associations across the Asia Pacific. The agenda of the organisation is to co-organise events, webinars, seminars and workshops to exchange information about recent events and to connect start-ups with corporates and investors.227 Australia and India could also collaborate and launch mutually acceptable digital wallets. Similar initiatives have been launched in other countries such as Singapore, where Prime Minister Narendra Modi recently launched three Indian mobile payment applications, namely BHIM, RuPay and the SBI app. India's RuPay digital payments system was linked with Singapore's 33-year old Network for Electronic Transfers (NETS), which enabled RuPay users to make payments at all of NETS acceptance points across Singapore.
Australia also has a well-developed and digitally enabled SME lending sector. Australia has companies like 'Moula', which use AI based real-time credit decisioning service and leverage machine learning capabilities to predict the probability of the SME being able to pay back its loan. Successful applications can result in business loans of up to USD 500,000 being made available in 24 to 48 hours, whereas the process through a traditional bank takes around 10-14 days.228 India could leverage on Australia's technologies and expertise in SME lending and screening for its own growing SME lending sector.
A key challenge faced by Australian fintech start-ups is the limited size of fintech talent pool. Australia can address this concern by sourcing human capital from India. India is home to a large number of young graduates with software expertise who can be trained to meet Australian fintech start-up requirements.
Opportunity for Australian investments into India in Fintech
Investments in fintech in India almost doubled to USD 3.7 billion in 2019 from USD 1.9 billion in 2018. Fintech in India has become an attractive destination for foreign investments owing to a large market base and favourable government policies. Fintech in India is under the purview of India's banking regulator, the Reserve Bank of India (RBI). In 2016, the RBI permitted 100% FDI under the automatic route in certain financial services subject to other regulations. Global companies such as Walmart, Amazon, Google, Paypal, Visa and Mastercard have made substantial investments in the fintech space in India. Foreign investments in this sector are further expected to grow as the sector has significant potential owing to the country's large population. This thus presents significant opportunities for Australian VC firms and investors to explore growth opportunities in this sector.
Start-up Environment
Australian start-up Environment
Australia has developed a vibrant start-up environment. Multiple factors such as strong economic performance, establishment of start-up hubs, government incentives and excellent infrastructure facilities have contributed to the development of a rapidly growing start-up environment.
The number of start-ups in Australia increased from 954 to 1,465 between 2015 and 2018. Majority of the start-ups are based out of New South Wales, which is home to ~44% of the Australian start-ups, followed by Victoria, which hosts ~14% of the country's start-ups.
A number of start-ups, such as Atlassian, Envato, 99designs, Spacer, Vinomofo, Freelancer and Campaign Monitor, have transformed into successful business ventures. The key industries in which start-ups have established themselves are ecommerce, fintech, internet software and services, healthcare and autotech.230 Australian start-ups received a funding of AUD 3.5 billion (USD 2.3 billion) in FY18, which included investments from foreign investors and global funds such as Sequoia, Accel and Index Ventures.230
The Australian Government has also launched initiatives to aid the growth of its start-up industry. Key initiatives launched by State Governments were the establishment of start-up hubs such as 'The Sydney Start-up Hub', 'The Precinct' and 'The Capital' in Brisbane and Melbourne. Additionally, the Government, in its Mid-Year Economic and Fiscal Outlook (MYEFO) 2018-19, has continued to provide a greater push to small and medium sized businesses by providing tax relief to businesses with turnover below ~ AUD 50 million (USD 33.5 million). Further, the Government also has plans to establish specific funds such as the Australian Business Securitization Fund and private sector-owned Australian Business Growth Fund to provide funding to small businesses.
The Federal and State Governments have also launched several initiatives in the form of financial and business aids. The Federal Government launched the "Entrepreneur's Programme" initiative to help businesses through support in incubation, funding, business management and commercialization. Other initiatives include R&D tax incentives and funding support by organizations such as CSIRO. New South Wales provides customer, market and channel support to new businesses by connecting them to key stakeholders and providing funds. Victoria Government launched an agency called 'LaunchVic' to assist start-ups with funding and growth initiatives.
Australian universities are also investing in the entrepreneurship programs by hosting over 73 start-up programs.231 Some of the notable programs include RMIT Activator and UNSW's Founder 10X that provide seed funding support.
Indian Start-up environment
India ranks among the top five start-up ecosystems in the world along with the US, China, the UK and Israel.232 India also has the third largest number of unicorn start-ups in the world after US and China, hosting 18 out of 250+ unicorns in the world.233 The ecosystem has scaled up significantly in recent years on account of rising consumption, emergence of entrepreneurial and technology talent and increased internet and smartphone penetration, resulting in higher demand for online services. From technology platforms to enterprise SaaS solutions, Indian start-ups have grown from being mere emulators of global technologies to now being innovators and trend setters. Bengaluru is home to the largest number of start-ups in India, hosting 25% of the Indian start-ups followed by Delhi & NCR at 21% and Mumbai at 14% respectively. Technology is the key growth driver with 1,200 new tech start-ups being added in 2018. The key tech verticals are enterprise software, fintech, healthtech, marketplace and edtech.234
The total funding received by start-ups in India has increased by 108%, from USD 2 billion in 2017 to USD 4.2 billion in 2018. The key investors include global PE funds and corporates such as Sequoia, SAIF Partners, Softbank and Alibaba. The start-up system has also witnessed the emergence of new investment models in the form of crowd funding and crowd-lending platforms.
The Government of India launched the 'Start-up India' initiative in 2016 to empower start-ups through incentives such as tax exemptions, faster exit mechanisms, higher incubation centres, simpler patent filing and USD 1.4 billion corpus fund.
The State Governments, too, have maintained a policy focus on start-ups by allocating a funding corpus, supporting incubators and start-up hubs and establishing mentor pool to offer guidance. Some of the initiatives include provision of incubation spaces by Karnataka and Tamil Nadu, 'T-hub' initiative by Telangana, mentorship programs by Chattisgarh, Uttar Pradesh and Kerala.
India is home to a number of prestigious institutes such as Indian Institute of Technology (IIT) and Indian Institute of Management (IIM). These institutions have various incubator and accelerator programs, which offer mentoring and business expertise to run the start-ups. There are over 200233 incubators and accelerators in India, as well as centers and institutes such as iCreate (International Centre for Entrepreneurship and Technology), AngelPrime, Start-up Village and Indavest.
Opportunities to collaborate in the start-up environment
Indian start-ups could look at Australia as test market for global expansion
Market testing is a critical process, especially for a start-up with new products and innovations. A thorough assessment is especially essential in tech start-ups where new players enter and disrupt the industry every day. Many Indian start-ups are looking to expand globally, with better margins and returns from international markets as key reasons. While the US is arguably one of the pioneers in technological advancement, the sheer enormity and complexity of the market does not render it as the most ideal to test a product. Australia, on the other hand, while being a mutli-faceted market like the US, is still comparatively small enough for a product to scale up, though less dramatically, for global expansion. Several companies such as Citibank, Coca- Cola and even KFC test their products in Australia.235 Further, Australia has various start-up support policies and grants to promote entrepreneurship. Australia's similarities with Western countries and a relatively small population size make it highly suitable for Indian start-ups to test their business products. One of India's premier ride-hailing service, Ola, chose to launch itself internationally first in Australia.
Sector Representative Contribution: Ola's international expansion – leading the way in the future of mobility
One of India's most successful start-ups, Ola, is conquering mobility on a global scale. With its headquarters in Bengaluru, India, the transportation network company now operates in 169 cities across 4 major markets, India, Australia, New Zealand and the UK, with Australia as Ola's first international market.
The Australian market was specifically selected by Ola due to its stable economy, ease of doing business, legal framework based on Commonwealth foundations and its diverse, cosmopolitan and progressive culture. Ola launched in Australia in February 2018 and has rapidly expanded to cover operations in 7 major metropolitan cities across Australia, Melbourne, Sydney, Canberra, Brisbane, Gold Coast, Perth and Adelaide.
Today, Ola employs over 3,000 people and provides almost 2 million rides a day around the world. In Australia, Ola has more than 50,000 registered drivers serving the needs of its users.
By harnessing the power of technology to connect people with matching needs - drivers with under-utilised vehicles and consumers with difficulty in finding transport, Ola is able to offer unique on-demand rideshare services, which are affordable, convenient and personalised. Ola's focus on customer experience and safety of its services has also seen it being the first rideshare company in the world to develop an emergency feature in its mobile app, which allows passengers to call for emergency services at the touch of a button. Other safety features that Ola has developed and launched include the ability to track route deviations in real-time and an automated alert system for emergency contacts listed in the app. In addition, a dedicated 24x7 customer support team, which provides support for any issues experienced by users during their ride, regular enhancements and updates to the Ola customer app to improve customer experience and weekly new user promotions have made Ola a preferred rideshare provider in Australia.
Australian start-ups could explore the opportunity to enter the Indian market for growth opportunities
India has a large market and is expected to witness high economic growth over the next decade. This, coupled with supportive Government policies and a vibrant start-up environment, makes it an attractive destination for Australian entrepreneurs. Australian start-ups can benefit from the active investment environment in India and can scale up their businesses to address the needs of a growing market. Australian start-ups can set up their infrastructure in India and benefit from the investment environment and the technical workforce in the country.
With India moving aggressively towards digital banking, Australian fintech start-ups have the opportunity to enter the Indian market and collaborate with Indian financial institutions including banks, payment platforms, NBFCs and other financial services firms to expand their operations.
India can help fill current talent gap in Australian start-up ecosystem
The need to hire global talent has been one of the key concerns of the Australian start-up community. According to recent statistics, 86% of Australian start-ups are looking to hire international talent.236 To address the shortage of talent in Australian-based start-ups, Australia and India can collaborate to fill the talent gap in the Australian start-up ecosystem. India has various technology and business institutes that produce millions of skilled professionals every year. India is home to a wide base of talent pool with technical as well as business skills. Every year, a large share of Indian engineering and business management personnel migrate internationally for better employment prospects. Indian professionals are also more likely to consider moving to Australia if visa regulations and documentation is made easier. The partnership will generate employment opportunities for Indian professionals as well as help Australian start-ups to fulfill their talent deficit. The two Governments can take this forward through discussions.
Joint research initiatives to boost the start-up culture in both countries
Australia's Federal Government has set up Cooperative Research Centers (CRCs) that function as key bodies in Australia for scientific research. These bodies support alliances between industry and researchers. Australia has 215 established CRCs that operate across various sectors such as manufacturing, mining and infrastructure, agriculture, information and social services, environmental and medical service sectors.237 They provide successful applicants with access to grant funds for up to 10 years to resolve industry issues through research programs and partnerships. These CRCs have produced several successful innovations in Australia. This year, CRC awarded Fivecast Insight, known to be the world's first data collection and threat-analysis platform for law enforcement and national security, and Bushfire and Natural Hazards CRC, known for its innovative public safety campaigns, for their innovative excellence in the application and use of research.238 Collaborations between the CRCs and Indian research bodies, as well as industries can be carried out. They can collaborate on sharing industry knowledge and solutions on various common emerging sectors such as medical technologies, agricultural technology, educational technology, advanced manufacturing, etc. Furthermore, India and Australia can also organize joint entrepreneurship programs for start-ups such as research parks that could increase research and development collaborations between start-ups of both countries.
India and Australia have together set up the Australia India Strategic Research Fund (AISRF) that is a platform for bilateral collaboration in science. It is jointly managed and funded by the Governments of both countries and involves around 100 top universities and research institutions from both countries. The AISRF is Australia's largest international science collaboration fund. This program has been extremely successful, having supported over 240 projects, workshops and collaborative activities in key areas of priority to India and Australia, since 2006. Their key focus has been on scientific and technology projects entailing marine science and energy storage, etc. or biotechnology such as plant genomics neurodegenerative diseases. They have also undertaken projects analyzing challenges to agricultural productivity and food security. The AISRF has been one of the most successful India Australia collaboration stories.
Greater focus on such collaborations, especially with India-centric research solutions, can be facilitated across the two countries. The two countries should set up a joint innovation and start up fund with each country contributing USD 20 million each on an equal basis over a 5-year period.
Source: New South Wales and India ink $1.6 million partnership to create futuristic tech jobs, 2018, The Times of India
Source: Engagement Framework Outline for Australia - India Start-up & Innovation Eco--System Draft Report, InQ
Australian start-ups could explore the opportunity to enter the Indian market for growth opportunities
In 2020, Hyderabad based incubator T-Hub announced a partnership with Sydney based technology incubator inQ Innovation in order to provide opportunities for Indian start-ups to scale up in the Australian market. T-Hub also aims to offer reciprocal opportunities for Australian startups interested in identifying business opportunities in India. In the recent years, Indian startups have diversified with transformative technologies across a wide range of sectors such as healthcare, fintech, transportation, hospitality, food delivery etc. As per data from Tracxn, in the period between September 2018 to September 2019, India's startups attracted domestic as well as foreign investments of ~USD 12.3 billion. Attractive valuations along with favourable government policies, growth opportunities and India's improved position in the Ease of Doing Business index have rendered India as one of the safest and most attractive investment destinations in the world. Australian investors should be encouraged to explore investment opportunities in the Indian start-up market.
Challenges faced by Indian IT companies in Australia
A common challenge faced by IT companies in Australia is the gap between the demand and supply of workforce. Historically, Indian IT companies used the 457 visa in Australia that allowed employers' sponsor skilled foreign talent to work in Australia for a period of up to 4 years. The 457 visa was replaced by a new temporary visa by the Australian Government. The new program has two categories i.e. a short-term visa for 2 years and a medium-term visa for 4 years that is awarded to address irreparable skills shortages. However, the resource supply gap requires faster visa approvals and streamlining of processes. The increase in restrictions and consequent increase in timelines for visa approvals have resulted in increased expenditure for companies. For instance, from 2018, employers operating in Australia are now mandated to pay the Skilling Australia Fund (SAF) levy on the TSS 482 visa for overseas workers. There is currently no fiscal support (as tax breaks or tax credits) offered to sponsoring entities. Further, in case of a pre-mature disengagement from employment or premature closure of any project due to business needs, companies have to wait/ track the refund of the SAF levy. Indian companies have therefore suggested that a charge be levied on annual basis. If duration of stay of the said employee is longer, the SAF can be repaid in the next year. Indian companies have also suggested the creation of a guided mechanism to access these funds to offer trainings within the company.
Current regulations require that individuals being sponsored for the 482 visa demonstrate their proficiency in English language. The proficiency can be demonstrated by undertaking and obtaining the pre-defined scores in the following tests: International English Language Testing System (IELTS); Occupational English Test (OET); Test of English as a Foreign Language internet-based test (TOEFL iBT); Pearson Test of English (PTE) Academic test; Cambridge English: Advanced (CAE) test.
Industry Association NASSCOM has requested the Australian authorities that applications that are filed as Intra Company Transfers (ICT) be exempted from this requirement and IT sector be exempt from this requirement. Indian companies have also suggested the acceptance of social media, especially Linkedin as a valid channel to advertise jobs. At present, the policy of Labor Market Testing (LMT) does not permit this in Australia and other stringent measures under the LMT policy are creating challenges for delivering appropriate resources in a timely manner.
Moreover, a time lag of greater than three months to obtain visas has significantly affected businesses with local talent shortages.
A collaboration in this regard can help effective participation from both countries. Investments in building workforce capabilities can help develop an ecosystem for tackling this issue. The solution lies in introducing an intermediate term visa with lesser documentation requirements and shorter processing timelines by Australia which will increase project profitability and execution speed for Indian IT companies collaborating in Australian projects. This needs to be discussed by the two Governments.
Indian companies have raised concerns over double taxation issues faced by them. Indian IT companies providing services to Australian clients, at times, provide a part of these services by deploying services of their teams located in India. The Australian tax authority (ATO) treats the income earned in these services as 'royalty' and levies taxes on it under Article 12(3)g of the Double Taxation Avoidance Agreement between India and Australia. This follows a Federal Court of Australia ruling to treat such payments as 'Royalties'. Additionally, these companies are also required to pay taxes in India as the services are rendered from India. Relevant Ministries in India, along with Industry Associations such as NASSCOM, need to resolve this issue of double taxation faced by Indian IT companies
offering services in Australia with the Australian authorities to facilitate appropriate credits.
Indian companies also face challenges in accessing government projects particularly at the Federal level in Australia. India could initiate discussions followed by a structured engagement between the two countries to evaluate opportunities as well as understand compliances required to participate in Australian Government projects. This will provide an opportunity for Indian companies to showcase their high-quality offerings to the Australian Government.
Recommendations
Relevant Ministries in India and Industry Associations such as NASSCOM, along with the Australian taxation authorities, need to resolve the double taxation issue faced by Indian IT companies offering services in Australia, to facilitate appropriate credits and resolve the issues.
Introduction of an 'intermediate term' visa with a duration between the Subclass 400 visa and the Subclass 482 visa coupled with lesser documentation requirements and shorter timelines for processing will be helpful for collaboration in the technology and services sectors.
Under the Start-up India program, joint entrepreneurship programs for start-ups should be organized and facilitation centers such as research parks, incubator precincts, etc. should be established to provide a boost to the start-up environment. Australia has a precedence of successfully establishing such precincts and can collaborate with Indian Government in this regard.
The State Bank of India (SBI) has not been allowed the status of an Approved Security Provider under the Financial and Performance Management Standards 2009 (FPMS). The two Governments should actively resolve this issue of an approval for SBI since SBI not getting the status of an Approved Security Provider significantly affects funding requirements of new Indian businesses operating in Australia.
The Government of India should create an ecosystem that is conducive for Australian start-ups looking at investment in India to tap into the Indian market.
India should encourage Australian Venture Capital firms and investors to explore opportunities in the fintech sector.
183 Simple, clear and fast public services, Digital Transformation Agency, Australian Government
184 Australian Bureau of Statistics
185 Opportunities- TechCity Melbourne, Invest Victoria
186 Company Annual Reports
187 Industry Performance: 2018-19 and what lies ahead, Nasscom Report
188 Global Cyber security index, 2018 , ITU
189 AustCyber
190 Australia only has 7 percent of the cybersecurity expertise that it needs, 2018, CSO
191 Australia hardest hit globally by cyber security skills shortage, 2016, CIO
192 India aiming to be among top 10 of UN's Cybersecurity Index: Gulshan Rai, 2018, Business Standard
193 India needs 3 million cyber security professionals right now: IBM, 2018
194 Joint Statement: Inaugural India-Australia Cyber Policy Dialogue, 2015, Indian Ministry of External Affairs
195 India- Australia cyber security, a win-win partnership, 2017, ANI
196 Queensland University of Technology, IIT Madras to undertake joint applied research, 2017, The Economic Times
197 AustCyber's Sector Competitiveness Plan, 2018, The Business Standard
198 Why Indian SaaS Start-ups Are Set To Rule The World, 2017, Forbes
199 Tiger Global looks to invest in five SaaS firms in May, 2019, Live Mint
200 The SaaS Juggernaut: Advantage India, iSpirt
201 AIndian software provider unveils fresh data centre in Australia 2018, Australian Trade and Investment Commission
202 Freshdesk Now Serves More Than 5000 Customers in Australia, 2016, Freshworks
203 Australia's digital transformation agenda, Department of Communication, Australian government,
204 Choice and convenience drive 'digital first' success, Australian Postal Corporation, Insight paper, 2016
205 ICT trends report 2015-16, Department of Finance, Government of Australia
206 IBM Signs AU$1 Billion Technology Partnership with Australian Government, 2018, Cloudscene
207 New Accenture boss Bob Easton throws down gauntlet to big four on digital, 2016, Australian Financial Review
208 Australia's Tech Future, Australian Government
209 Digital leadership requires an additional 200,000 Australian tech workers, ACS
210 Global In-house Centers in India, 2017
211 Newcrest collaborates with Tata Consultancy Services to create Innovation and Digital Operations Centre, 2018, TATA Consultancy Services Ltd.
212 Rio Tinto opens innovation centre in India, 2012
213 Global In-House Centres, NASSCOM
214 Cloud computing adoption in Australia is booming, 2017
215 Cloud skills shortage holding back some Aussie businesses, 2017, CIO
216 India's Booming Cloud Market Is Set To Be Worth $4.1 Billion By 2020 -- Here's Why, 2018, Forbes
217 India to see over 1 million cloud computing job roles by 2022: Report, 2018, The Economic Times
218 Nasscom: Big data analytics to reach $16 billion industry by 2025, Insights Success
219 Australia's fintech start-ups did better in 2016 raising cash than the rest of the world, 2017, The Business Insider
220 Fintech Market Growth to Add A$1 Billion New Value to Australian Economy by 2020, Australian FinTech
221 Industry Report
222 The two Australian cities that have built global reputations as fintech hubs, The Business Insider
223 Fintech in India by KPMG & Nasscom
224 India's fintech start-ups soared 3X during 2015-18; second highest globally, says report, 2019, Financial Express
225 KPMG Pulse, quartz.com
226 UK-Australia FinTech Bridge, Australian Government
227 Nine Associations Join Forces to Launch 'Asia-Pacific FinTech Network', 2019, Regulation Asia
228 Using AI to enhance financial services: lessons from Australia's Moula
229 Indian cloud-consulting company opens Australian office, Australian Trade and Investment Commission
230 Start-up Muster report 2018
231 Australia's start-up ecosystem is booming and universities are jumping in, 2018
232 Unlocking the real value of India's start-up ecosystem, 2016, Live Mint
233 India Start-up Ecosystem, 2018 by NASSCOM
234 Start-ups in India see 108% growth in funding in 2018: NASSCOM, 2018, The Economic Times
235 Why Australia is the best place in the world to launch a start-up, 2018, AFR
236 A statistical profile of the typical Australian start-up, 2017, Business Insider
237 A Overview of CRC Program, Cooperative Research Centres Association
238 Excellence in Innovation Awards 2019, Cooperative Research Centres Association
239 India will be home to 10,500 start-ups by 2020: Nasscom, 2016, The Economic Times