Synopsis
Tourism is a strategically important sector, both for India as well
as Australia. India and Australia are both bio-diverse nations, which
have several opportunities to increase their revenues from tourism.
The following opportunities have been identified in this sector:
Encouraging Australian inbound tourist visits to India.
Encouraging collaborations between the Ministry of Tourism in India and Tourism Australia.
Setting up outlets by Indian restaurant chains in Australia.
Availing of favorable taxation policies by the Federal and State Governments of Australia to film in Australia.
Due to the ongoing Covid-19 pandemic the tourism and hospitality industry the world over will take time to recover . However, the narration in this chapter will evantualy be benefitted by the implementation of measures in the opportunities identified.
India's Macroeconomic story
Tourism is an important contributor to the Indian economy. According to World Travel and Tourism Council, tourism contributed 9.2% to the Indian GDP in 2018.435 It is one of the largest service industries in India and covers heritage, cultural, medical, business and sports tourism.
India is a bio-diverse country that offers picturesque landscapes, beaches, backwaters, hill stations as well as historical monuments and places of religious interest to foreign and domestic visitors. India has 30 world heritage sites, 25 bio-geographical zones and is home to one of the seven wonders of the world.
At a policy level, the Ministry of Tourism is dedicated to promoting and facilitating growth of tourism in India, focusing on easing procedures such as visa regulations, ensuring quality service from all tourism service providers, etc. The Ministry is working towards enhancement of tourism destinations in the country by upgrading infrastructure amenities, enhancing skill development among service providers and collaborating with other related central ministries. On these lines, the creation of "Special Tourism Zones" (STZs), in partnership with different states, has also been recently announced.436 These STZs will be operated by the Ministry in partnership with state governments and private organizations to develop the sector and improve the tourist experience in the country.
The Covid-19 outbreak will likely shift the order of implementations in this sector, in line with the nation's priorities. The worldwide lockdown has led to the immediate suspension of hotels, flights and other allied tourism operations around the world. However, with the gradual return of normalcy once the drastic effects of the novel coronavirus subside, the opportunities highlighted in this sector can be implemented in the long-term within the realms of the postpandemic realities.
Growth of Tourism in India
The tourism sector in India contributed USD 240 billion in 2018 (~9%) to GDP in comparison to USD 113 billion in 2013 (6% of GDP). The number of tourists in the country has also been increasing. In 2017, there were ~15.5 million international tourist arrivals and 5.5 million NRI arrivals in the country437. The steady increase in the number of foreign tourists can be attributed to factors such as easy availability of e-visas to foreign tourists and improvement in road and rail infrastructure.Most of the inbound tourists in India are from Bangladesh, USA and the UK and the three countries account for more than 40% of the total number of foreign tourist
arrivals (FTAs)438.
Over 367,000 Australian nationals visited India in 2019 and the trend has been steadily growing. From being the 6th largest provider of tourists to India in 2018, Australia has jumped to 4th rank in 2019.
Popular tourist destinations in India

Government Initiatives to promote tourism in India
The Ministry of Tourism is a dedicated body to improve and promote tourism in the country. Given the potential of the tourism sector in India, the Government has started various promotional programs and initiatives to ease the policies and procedures to boost tourism in the country.
Efforts taken by the Ministry of Tourism to ease, enhance and elevate the tourist experience in India are as follows:
Tourism infrastructure – Swadesh Darshan-Integrated Development of ThemeBased Tourist Circuits and PRASHAD – Pilgrimage Rejuvenation and Spiritual, Heritage Augmentation Drive for development of tourism infrastructure in India including historical, religious and heritage sites.439
Special Tourism Zones (STZs) – STZs anchored by SPVs in partnership with State Governments to develop respective states and regions to make them more attractive for tourists.
A 24x7 toll free multi lingual tourist infoline in 10 international languages besides English & Hindi; to provide information to tourists and travelers and for traveler safety.
E-visas – The Ministry of Tourism is working with the Ministry of Home Affairs and the Ministry of External Affairs for easing visa regimes for foreign travelers to India. As on December 2017, e–Visa facility had been extended to nationals of 163 countries under 3 sub – categories i.e. 'e- Tourist Visa', 'e – Business Visa' and 'e – Medical Visa'. The number of tourists who came on e-visas increased by 57% to 1.7 million (2017).
In order to combat the seasonal nature of the tourism industry and to position India as an all year-round destination, the Ministry is identifying, developing and diversifying niche tourism offerings such as adventure, cruises, lifestyle and wellness, exhibitions, etc.
Re-curation of the Indian Museum in Kolkata was announced by the Prime Minister in January 2020. Additionally, 4 other museums from across the country will be taken up for renovation and re-curation. A few other projects include, a Tribal Museum that is expected to be set up in Ranchi (Jharkhand) and a Maritime museum at Lothal (the Harrapan age maritime site) near Ahmedabad, by Ministry of Shipping.
Opportunities for Australian Investments in India
The Indian tourism sector presents various investment opportunities for Australian investors. The Indian Government has laid emphasis on boosting investments in the hospitality and tourism sector. 100% FDI in the sector is now permitted via the automatic route.

As per Invest India, the National Investment Promotion and Facilitation Agency of India, opportunities worth USD 5.46 billion exist in the Indian tourism sector. A large number of these opportunities exist in heritage and religious tourism (entertainment parks, film city projects, museums, statues etc.), eco and coastal tourism (development of river fronts, tourist islands
etc.) and hotels.
The Indian government is actively looking at increasing foreign investments in the tourism sector with the liberalization of the visa regime (tourist, business, medical and employment visas), initiatives like the UDAAN scheme and introducing 'Tejas' trains for iconic tourist destinations, all expected to boost investments into this sector.
Some specific segments within the tourism sector that offer investment opportunities to Australian investors include the budget hotels and medical and cruise tourism. Initiatives such as liberalization of FDI rules in the construction sector further incentivize foreign investments into these areas. Specifically, the budget/mid-market hotels segment faces a significant supply gap in the country as it attracts a large share of demand by volume in India.
Furthermore, the government, in the Union Budget 2020 has identified iconic destinations for Indian tourism with onsite museums. The Indian Government has laid down a budget of Rs. 2,500 crore (USD 357 million) for tourism in the Union Budget 2020. Additionally, Rs. 3,150 crore (USD 450 million) has been proposed for the Ministry of Culture in FY2020-21. An Indian Institute of Heritage and Conservation under Ministry of Culture has been proposed with the status of a deemed University. Furthermore, under the Union Budget 2020, State governments are also expected to develop a roadmap and formulate financial plans for specified destinations in 2021, against which specified grants can be made available to the States in FY2020-2021. Australian investors should therefore be encouraged to invest in the upcoming tourism projects in India as well as to develop budget and mid-market hotels in the country.
Opportunities for partnership with Australia
Increasing the flow of Australia's tourists to India
In 2018, a total of 11 million international trips were made by Australians. The top five overseas destinations visited by Australians in 2018 were New-Zealand (1.4 million), Indonesia (1.28 million), the US (1.0 million), UK (0.66 million) and China (0.59 million)440.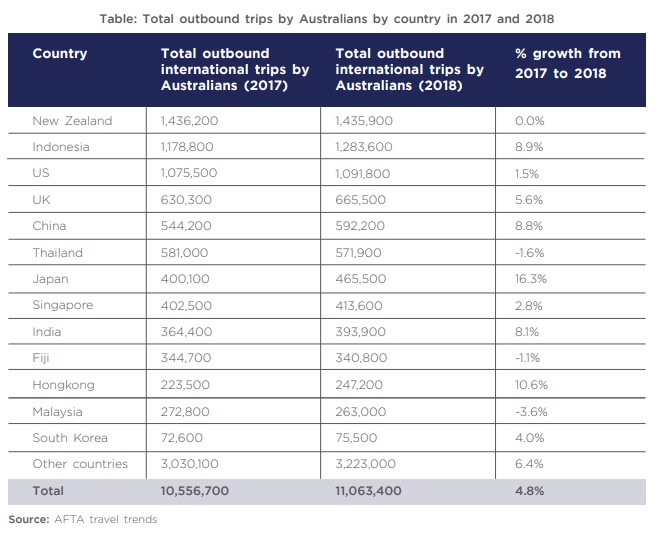 Over the past decade, the number of trips by Australians to India has grown at 11% CAGR from 140,000 in 2008 to 390,000 in 2018. India was the 9th largest destination for overseas trips by Australians in 2018.
A considerable proportion of the travelers (40-50%) had their roots in India and travelled to India to visit their friends/relatives. However, travelers also visited India for other reasons such as business (5-10%), to experience Indian culture, heritage, festivals and cuisine (10%), yoga and spiritualism (20%) and India's picturesque locations, wildlife, etc. (5-10%)441.

With its diverse culture, rich history and beautiful landscapes, India has significant potential to increase the inflow of Australian tourists.
India can attract Australian tourists to visit India through targeted measures such as:
1. Addressing the key concerns faced by Australians in India
In a survey conducted by the Ministry of Tourism, India, a few key concerns were cited by Australians for not preferring India as a travel destination442. Some of them included perception of India as an expensive tourist destination, lack of information, lesser availability of good facilities such as hotels, food and transport and difficulty in obtaining visas.

The Ministry of Tourism in India can collaborate with its counterpart in Australia to promote India as a tourist destination through public events and branding activities. The Ministry can also undertake efforts to guide incoming tourists regarding places that can be explored within India for a varied set of experiences. The Ministry is already focusing on enhancing infrastructure facilities at popular tourist destinations. In addition to this,
the Ministry can identify and tie-up with hotels, restaurants and transport providers to provide suggestions to inbound travelers. The ongoing effort by the Government to ease the visa regime will also aid in boosting the tourist inflow from Australia.
2. Increasing direct flights between India and Australia
Limited availability of direct flights between India and Australia is one of the key factors restricting the growth of tourists from Australia to India. Air India operates 5 direct flights a week on the Sydney-New Delhi route and 3 direct flights on the Melbourne-New Delhi route443. Since, no other airline operates a direct flight between the two countries, the existing direct flights are often more expensive than other carriers. There is also no direct connectivity from Australia to other major Indian cities such as Mumbai, Bangalore and Chennai. The paucity of direct flights not only limits expansion of tourism, but also acts as a significant hindrance to Australian business travelers and tourists who spend excessive number of hours on indirect routes and layovers. For example, a direct Perth to Chennai flight would have a duration of only 7 hours, which is significantly elongated via indirect routes to Malaysia, Singapore, Hong Kong and even the Middle East.
India and Australia have signed an 'Open Skies' agreement in June 2018. The arrangement allows airlines from both countries to deploy unlimited seats to six Australian cities (including Melbourne, Perth, Sydney, Brisbane and Adelaide) and six Indian cities (Mumbai, Hyderabad, Chennai, Delhi, Bangalore and Kolkata). With availability of unlimited access to major Australian cities, coupled with high future demands in the sector, Indian airlines should therefore consider initiating direct flights to Australia. Direct flights would considerably simplify the travel travails of Australian travelers and aid in increasing the number of Australian tourists to India.
In line with the measures implemented by governments across the world to contain the global Covid-19 pandemic, air-traffic and tourism has significantly dropped. While some of the recommendations for direct flights between India and Australia may not be feasible immediately, such measures can be implemented by the respective governments
on both sides in the long term, once a state of normalcy is established.
3. Promoting India as a transit location
Currently, Singapore is one of the most popular transit locations for flights between USA/Europe and Australia. India is at a strategic location between Australia and the East coast of USA as well as between Australia and European nations. The Indian Government can leverage this advantage to promote India as a transit location. This will increase awareness regarding India not only among Australian travelers but also among travelers
from other countries across the world. The state-of-the-art airport infrastructure under development in India can be expected to play a significant role in promoting India as a destination for layovers. Indian airline companies can thus initiate the process of operating such routes via India. These measures can be implemented once a state of normalcy after the COVID 19 pandemic is established.
4. Access to tourism infrastructure and systems in Australia
India requires a consolidated strategy to promote itself as a global travel destination. While the Ministry of Tourism has introduced campaigns such as "Incredible India", "Make in India", "God's Own Country", etc., these need to be focused on a specific strategy for Australia.
The Department of Resources, Energy, and Tourism in Australia set up Tourism Australia in 1967 to attract international visitors to Australia for both leisure and business events. The aim of the body is to actively market Australian tourism in key target geographies through promotions via different media, advertising, trade shows, industry programs, consumer promotions and consumer research. Tourism Australia has identified 15 key markets, which present a strong potential to increase inbound tourism to Australia. With dedicated ad campaigns, celebrity associations, trade and road shows, etc., Tourism Australia has designed a unique strategy for each market.

For instance, Tourism Australia released the India 2020 Strategic Plan, which is a detailed analysis of India's potential to contribute towards Australian tourism444. The document presents a strategy to identify the target customer, target key geographies in India, develop aviation services, and build experiences for the Indian customer. Besides this, Tourism Australia also conducts "India Travel Mission", which facilitates communication between Australian tourism representatives and Indian travel/tour agencies present across various cities. The purpose of the trade show is to display Australia's strengths as a holiday destination and build on strong trade relationships to position Australia as an ideal destination for business events.
The Ministry of Tourism in India can collaborate with Tourism Australia to set up a similar body in India to develop short, mid and long-term roadmaps to enhance tourism in India. The agenda of this body should be to target key geographies, improve infrastructure for tourists and build a roadmap to tap the market in these identified regions. This can be done in alliance with the tourism body of that state, Indian High Commissions, Indian Consulates and large tour operators based out of the target country. The strategy implemented must be unique for each state to address the specific needs of travelers from that particular region. For instance, Australian youngsters enjoy outdoor activities and adventure sports rather than just sightseeing.
Additionally, the Ministry of Tourism in India can also collaborate with Tourism Australia to introduce travel missions, on the lines of the India Travel Mission by Tourism Australia. The purpose of the travel mission could be to undertake Indian roadshows in major cities in Australia.
5. Indian restaurant chains in Australia
As per the 2016 Australian census, ~489,410 people of Indian origin were living as permanent residents in Australia.445 Of these, 48% were also Australian citizens. This makes India the second-largest migrant community in Australia accounting for about 1.8% of the population446. Indian cuisine is gaining prominence worldwide with greater exposure to Indian food and with the growing popularity of vegan and vegetarian diets. The
establishment of smaller Indian restaurants, as well as luxury Indian diners in various cities across the world, has also led to growth in popularity of Indian food.
The presence of a large Indian diaspora coupled with an increasing number of tourists from India and the growing popularity of Indian cuisine internationally also offer a big opportunity for Indian restaurant chains to set up outlets in Australia. The business model
of successful Indian restaurant chains in Australia, such as Moti Mahal, Saravanaa Bhavan, etc., can be studied by other Indian operators in the restaurant space to make inroads in this segment in Australia.
6. Australia as a filming destination
Australia has significant bio-diversity, expansive locations and is a popular filming destination. The country is well equipped with support infrastructure for cinematography and videography, including state of the art equipment and skilled crew members. During the period 2015-17, many big-budget Hollywood movies such as Pirates of the Caribbean: Dead Men Tell No Tales, Thor: Ragnarok, and Aquaman were shot in the country.

Currently, the Australian Government offers tax incentives in the form of a 16.5% rebate known as the 'Location Offset', on the production cost of high budget films and television series shot in Australia.447 While the rebate has been provided to incentivize foreign filmmakers and to promote the country as a filming destination, higher tax rebates offered by the UK and US Governments implies that Indian filmmakers favor these locations over
Australia. As a consequence, the Media, Entertainment and Arts Alliance (MEAA), which is an industry advocate for this sector in Australia, has appealed for a higher rebate of 30% recently448.
The Indian entertainment industry is expected to become a USD 20.6 billion industry by 2020449. Currently, India produces ~1,500 movies annually in several languages450. In 2017, TV viewership increased by 21% to approximately 780 million viewers449. 'Bollywood' is one of the largest production industries in the world with an estimated value of USD 2.3 billion451. Bollywood producers and Indian TV shows regularly shoot their films in foreign locales such as in Europe, the UK, US, Africa, etc. Apart from 'Bollywood', India also has several large and established regional film industries in various languages such as Tamil, Malayalam, Telugu, Marathi, Punjabi, etc. that contribute significantly to this sector.

Appealing to India's filmmakers provides a significant opportunity to Australia to promote itself as a film making destination. The Australian Government and film associations can thus be encouraged to enter into an arrangement with Indian filmmakers to provide specialized tax incentives, similar to those provided by the UK and US.

Filming in Australia could also increase the viewership and popularity of Indian films amongst Australians. This will further provide an international platform to Indian films and enable them to reach a wider audience in Australia, which has some of the world's oldest and most popular film festivals that include Australian International Film Festival, Melbourne
Film Festival, Melbourne International Animation Festival, Sydney Film Festival, etc.

Indian films have a high viewership around the world, on account of the presence of a large Indian diaspora globally. Several countries such as Spain, Switzerland, etc. have witnessed an influx of Indian tourists after being showcased extensively in Indian films. Encouraging collaborations with India's large and booming film industry not only provides the Indian film industry access to Australian audience and specialized technical crew
from Australia but also provides significant momentum to the tourism industry between India and Australia.
Recommendations
Australian investment should be encouraged in heritage and religious tourism, eco and coastal tourism and hotels in India.
Direct flights should be started between Indian cities such as Mumbai, Bangalore, Hyderabad, Chennai, Kolkata, etc. to Australian cities such as Perth, Brisbane, Adelaide, etc. which will be a key enabler to improve tourism, business and trade relationships
India's tourism bodies such as the India Tourism Development Corporation (ITDC), set up by the Ministry of Tourism, should enter into a collaborative arrangement with Tourism Australia to adopt best practices and strategies for promoting India as a tourist hub, both in Australia and the rest of the world. In addition, this collaboration should also involve upgrading regional tourist campaigns in India.
India should restore the office of the Ministry of Tourism in Australia
An MoU was signed between the two countries for tourism in 2014 which has now lapsed and should be renewed to encourage partnerships between the two countries. Under the MOU, Australia and India shared information on tourism policy and encouraged cooperation between tourism stakeholders in both countries. A joint Australia–India working group (JWG) on tourism met across cities such as Sydney and New Delhi to discuss visas, aviation links, traveler safety and opportunities for collaboration in tourism research.
435 World Travel & Tourism Council
436 Indian Tourism Infrastructure, Investment Opportunities and Challenges
437 Ministry of Tourism
438 Ministry of Tourism
439 Press Information Bureau, Ministry of Tourism, Government of India, 2019
440 AFTA travel trends
441 AFTA travel trends
442 Study on tourism in the overseas market of Australia and New Zealand, Ministry of tourism, India;
443 India and Australia enter an Open Skies agreement, Business Traveller, 2018
444 2020 Summary of Tourism Australia's India Strategic Plan
445 Australian Government, Department of Home Affairs
446 ABS 2061.0.55.001 – 2016 Census QuickStats Country of Birth
447 Tax rebates for film and television producers, Australian Government, Department of Communications and the Arts,
448 Screen production incentives must be raised in Federal Budget, Media Entertainment and Arts Alliance, 2018
449 Investing in India's Entertainment Industry – Digital Streaming, Regional Content, Film and TVIndia Briefing,From Dezan Shira & Associatives
450 Media and Entertainment, Film Segment, Care Rating
451 Bollywood: India's Film Industry By The Numbers [Infographic]